Episode 4: Choosing keywords, it's the most important action in a SEO strategy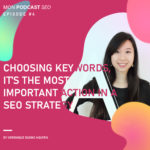 Why choosing keywords it's the most important action to take in account during a SEO strategy? Here is the answer in Cantonese!
Choosing the right keywords is the main thing at the beginning of a SEO strategy. Thanks to the right keywords, you will obtain qualitative traffic and a high Click Through Rate (CTR). These metrics are very important to take into account.
---